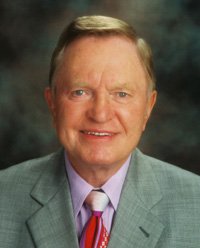 Author – Entrepreneur – Inventor – Health Advisor
Elmer G. Heinrich
Condensed Bio for Elmer G. Heinrich
Elmer Heinrich, fondly called Mr. H by many, has studied minerals and soil depletion of minerals for the last thirty-eight years. This is what prompted him to write his book, The Untold Truth. He began to understand the workings of nature and soil after being one of seven children born and reared in a dilapidated railroad boxcar on a farm on the plains of western Kansas, USA.
He exemplified his leadership and salesman skills at an early age. His forward thinking, motivation and aggressive attitude were evident throughout his business and athletic career. In business, he rarely took "no" for an answer. However, he displayed patience and tolerance from personal relationships and interactions with those with whom he did not agree while he attempted to convince them the "yes" could be accomplished, in most cases, if properly implemented. If he thought a suggestion or action was erroneous, he would merely say "If I agreed with you, we would both be wrong"!
His first of many successful entrepreneurial business ventures began at age 20. During his business life he accumulated many patents, trademarked many names, wrote numerous marketing programs, and authored several books. He became listed in Marquis's "Who's who in American Inventors" and later in Marquis's "Who's who in American Finance and Industry" as well as "Who's who in the South and Southwest". He banked and owned or operated businesses in seven countries and traveled to at least forty countries testing soil and seeking business opportunities. He has rubbed shoulders and has been associated with some important and well-known people including western singers, movie and TV stars and athletes. He had Hall of Famer, Joe Namath, and Charlie Batch of the football world under promotional contracts. At that time, he was also associated with Doug Williams, the quarterback for the football Super Bowl winning Washington Redskins. Mr. H has been written up in national magazines including the February 2001 issue of Fortune Small Business.
His first retail business was that of operating a new gasoline service station in a small Western Kansas City of 1,200 people with 8 service stations as competition. Seven of those competitors', closed or changed operators within three years of his arrival because Mr. H had earned most of the local business. He recalls having to borrow $50.00 to put in the cash register to start the business. His next business was in the irrigation well drilling field. He had learned how to drill irrigation wells working part time for a well driller while in high school. He, along with a partner, purchased a bankrupt irrigation drilling company that was fully equipped, ready for operation. Mr. H immediately put the rigs to work drilling wells in Nebraska. Within twelve days after the rigs were purchased, he had earned enough net profit to pay off the loan that was borrowed to purchase the drilling company. He managed the daily drilling operations while wearing many hats including field supervisor, salesman, rig operator, pump and engine installer and anything else required to develop and operate a successful drilling business. He owned his share of the company for six years during which time the company became one of the largest irrigation, well drilling companies in the world drilling in Kansas, Colorado, Nebraska, and South Dakota.
After selling his drilling company stock to his partner, Mr. H became a Life Insurance salesman because he wanted to learn more about prospecting, selling and sales presentations. He earned an immediate reputation in sales by selling a $400,000 whole life insurance policy on his first sales call. This was unheard of during that period. He became the Colorado state sales manager seven months after joining the company. As a rookie, he set a national record by insuring 412 lives while selling $7,000,000 of life insurance during his first year in the industry.
His life insurance renewals became vested after three years at which time he resigned and formed a company that was later named The Hotsy Corporation. This was a pressure washer and steam cleaning company that eventually became one of the largest in the world, mostly due to his sales and training expertise during the company's initial stages. Three years after the company was formed, he sold the company to the wealthy Denver, Colorado family that owned Denver Chicago and Navajo Trucking companies.
He acted as Hotsy's sales manager for two years after the sale and then went to Arkansas and purchased control of a public company tha manufactured pressure washers and the world-famous "Robo" automatic car wash systems. When he purchased control, the company was on the brink of bankruptcy from internal management problems, graft, and theft problems as well as many lawsuits. By implementing immediate and stringent security measures, cost controls, and increased production efficiency as well as increased sales, the company quickly became a proud and viable company. Mr. H hired and directed Vince Foster, Webb Hubbell, and Hillary Rodham Clinton of the Rose Law Firm in Little Rock to defend the company from the lawsuits that had been filed before he purchased control. Yes, Vince Foster and Hillary Rodham Clinton were Mr. H's lawyers!
After resigning from Robo, Mr. H moved to Tulsa, Oklahoma, and formed The Rockland Corporation. He built a state-of-the-art, 76,000 sq. ft. facility to manufacture, process, bottle and package and distribute nutritional supplements. This became a phenomenally successful business after he was introduced to plant-derived colloidal minerals in 1982. He was intrigued with this unusual and little-known product and studied it carefully. He began introducing this unique and comprehensive composition of plant minerals to the world in 1983. He opened his own mineral mining operation in Utah during 1986. Plant derived minerals were mined and processed in Utah and then final filtered and packaged by Rockland in Tulsa. During this period Mr. H purchased a Cancer Treatment hospital in Mexico that was operated very successfully for more than five years in conjunction with his travel agency, a chemical company, and Liquid Assets, Inc, his holding company that managed his real-estate. At one time he owned property in seven states. He also established a business in the Philippines that sold nutritional products. At the same time, he was warehousing nutritional products for the company's distributors in Canada, Australia, New Zealand, Germany, and the UK.
When Mr. H wanted to do something, he did it quickly and without reservation. He seemed to possess the overwhelming talent to do anything with little effort. His first parachute jump was from 9,000 feet without a static line. He flew solo within four hours after purchasing his first airplane and then made his first cross-country flight into Stapleton International airport in Denver, Colorado the following day. He became an accomplished pilot with 1,800 hours and an IFR rating. He captained his own 70-foot, 3,000 horsepower yacht throughout the Bahamas and south Florida for four years. Being an avid golfer, he played in ten World Amateur golf tournaments and four Honda Classic, Pro-Am tournaments. When asked why, in his opinion, he was so successful in so many business ventures he nonchalantly said, "I never mistreated an associate or a customer, I trusted my instincts, worked hard and was willing to take a risk while never sacrificing integrity for growth". Mr. H and his trusted team are now operating Exceptional Health Products, a division of Liquid Assets, Inc. They sell their plant derived colloidal minerals and nutritional products in 27 countries to some of the largest companies in the world.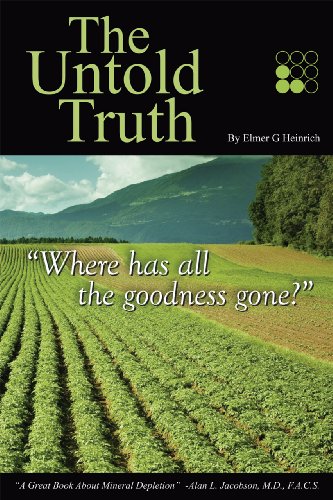 The Untold Truth
This incredible 190-page book contains an accumulation of researched facts from numerous countries with respect to soil and food mineral depletion. It provides answers to questions about why present day foods provide less nutrition than years ago. This precise and factual information is the result of 40 years of research that explains The Root of All Disease™.
Learn why people are more sickly today than 50 years ago. It's not just what you eat… it's the amount of nutrition in what you eat. Learn how to get more nutrition out of food and how to live a healthier and more productive life.